Last weekend I had some friends over for Summer Q 2011. I smoked a bunch of meat and tried some new things. On the menu we had pulled pork, ribs, spatchcock chicken, London broil, black beans (the recipe will be in another blog), caesar salad and chocolate cake. It was a great spread.
I did the pork like I usually do. Slathered with honey mustard and rub and smoked at about 250° for about eight hours. Every hour, or whenever I checked the fire, I would mop the butts with a mix of worsterceshire, soy sauce, olive oil, water and apple juice.
I prepped the Ribs about an hour before they went on to the cooker. I had two racks and did two types of ribs. They started out the same. I removed the membrane and rubbed them. After they were rubbed I let them sit for a while to allow the rub to start to pull out the juices. I put them on the cooker at 250°. They cooked for five hours with a spray of apple juice every hour. After three hours I pulled one of the racks off and foil wrapped it with some butter and homemade strawberry jelly. I left this rack foiled for an hour then unwrapped it and glazed it with a BBQ sauce I made with some more strawberry jelly. These ribs rocked.
I brined the chicken over night in salt water with brown sugar, rub and a vinegar BBQ sauce. About 30 minutes before it went on the cooker I spatchcocked it, dried it and rubbed it. This went on the cooker for two and half hours.
The London broil was a new experiment for me. I rubbed it the night before and let it rest in the fridge. I figured it would only take about two to three hours to cook. I should have checked it after about an hour. It had great flavor but got dried out. I think the next time I do one I will let it cook for 30 minutes then foil wrap it with some mop sauce for another hour.
At one point I had all the meat on the cooker at the same time, so I had to get creative to fit it all on. I took four coke cans and used them as pillars to hold up a small grill that the chicken and London broil cooked on. This is a great way to add an extra cooking shelf to a full cooker.
One of our friends makes a great Caesar salad. When he makes it he "loves the bowl." This involves talking to it while rubbing it down with garlic and lemon juice.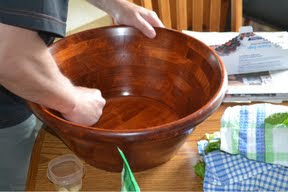 Overall all the meat was good and I got to introduce some of our Canadian friends to real BBQ. I might have to do a Summer Q 2011 II later this summer.